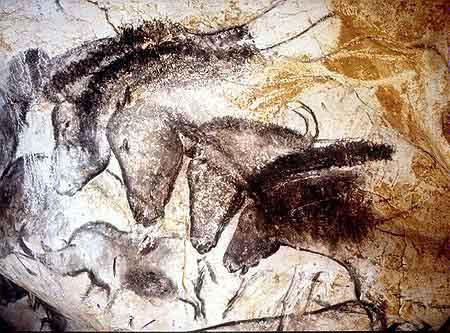 Deb of
beadsandblooms
came up with a real winner of a theme!
Ancestral Expressions
. I've got Seminole and Irish in me, plus German and English, and I don't really know what else!
I'm thinking of going some deeper though-- or farther back-- Cave Drawings are assuredly Ancestral Expressions, and I've always found them fascinating.
Yesterday Ella Parry convoed me about featuring one of my beadwoven cuffs on
her blog
, The Illustration Loft. Thanks Ella!
Also, last night was the end of my very first blog giveaway! I was completely thrilled by the response. I've read over each comment several times and it gave me lots of food for thought. The first and easiest suggestion to institute was to add pictures to each post-- and I've worked on it. I'll work on the rest too-- a little at a time.
I appreciate each one of you who took the time to give me some feedback and I wish I could give something to each of you. Well I can, sort of.
For each of the 30 of you that commented on my 100th post, I'll give you free shipping on any order from thebeadedlily. That offer is good till the 13th and in combination with other offers. To take advantage of it just add '#100FS' to the notes to seller field in Etsy checkout.
Now! The winner is
LoveEtsyFeedback TagsAndButtons
. I've already contacted her to let her know. Again, thanks to you all!
Remember that there's still a giveaway going on! My
Collage pendant
is still up for grabs. All you have to do to enter to win is sign up for the BAO newsletter
here
.
--
The
BAO Trunk Show
is the 9th, 7 to 9pm EST-- with awesome deals and better giveaways included! It's at the
Virtual Labs
on Etsy. From 5 to midnight on the 9th and beadwoven purchases from thebeadedlily get free shipping and a free gift.
The Georgia Etsy Team Sale runs from the 10th to the 13th on Etsy. I'll be offering 10% off everything. Search GAEtsyTeam on Etsy for other great specials.
The local
Savannah Market Bazaar
is on the 11th. come on out and see me!